<< < | 1 2 3 4 5 6 7 8 | > >>
0 Comments / Subscribe To Comments
Published: Apr.02.2011 @ 3:03 pm | Last edited: Apr.08.2011 @ 3:07 pm
You get a beautiful and inspiring video of Alice Ninni painting while Matteo Negrin's music is playing:
This is so lovely and I've been watching this the whole afternoon, just hitting replay again and again. I am inspired to paint or create something new while listening to some of my favorite songs. Hopefully this video will inspire a lot of people to start taking care of our environment, too.
0 Comments / Subscribe To Comments
Published: Apr.01.2011 @ 8:50 am
Have you ever wondered if any famous person today failed sometime in their lives? Watch this inspiring video to find out:
0 Comments / Subscribe To Comments
Published: Mar.31.2011 @ 5:19 am
Summer's almost here, and I've been dreaming of travelling again. Have you ever gone out of the house and out into the wild and just enjoyed the trip without worrying about what you left behind?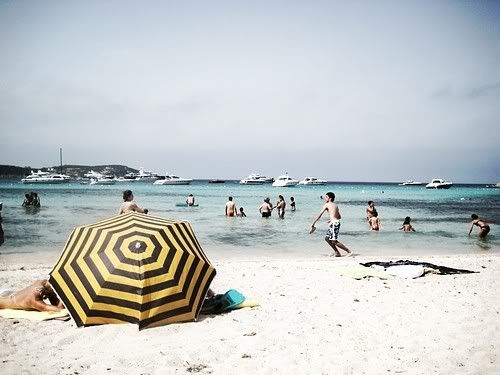 (via)
Here are some inspiring travel quotes to get you out of that seat and on to planning your next adventure!
"The world is a book and those who do not travel read only one page." – St. Augustine
"There are no foreign lands. It is the traveler only who is foreign." – Robert Louis Stevenson
"The use of traveling is to regulate imagination by reality, and instead of thinking how things may be, to see them as they are." – Samuel Johnson
"Our battered suitcases were piled on the sidewalk again; we had longer ways to go. But no matter, the road is life." – Jack Kerouac
"Traveling is a brutality. It forces you to trust strangers and to lose sight of all that familiar comfort of home and friends. You are constantly off balance. Nothing is yours except the essential things – air, sleep, dreams, the sea, the sky – all things tending towards the eternal or what we imagine of it." – Cesare Pavese
"To awaken quite alone in a strange town is one of the pleasantest sensations in the world." – Freya Stark
"A journey of a thousand miles must begin with a single step." – Lao Tzu
"Not all those who wander are lost." – J. R. R. Tolkien
0 Comments / Subscribe To Comments
Published: Mar.30.2011 @ 9:56 am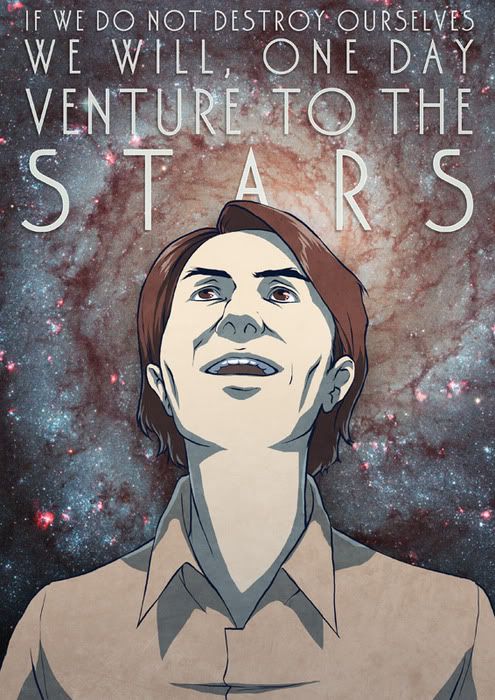 Some nice quotes from Carl Sagan:
Imagination will often carry us to worlds that never were. But without it we go nowhere.
Every one of us is, in the cosmic perspective, precious. If a human disagrees with you, let him live. In a hundred billion galaxies, you will not find another.
For small creatures such as we the vastness is bearable only through love.
Look again at that dot That's here. That's home. That's us. On it everyone you love, everyone you know, everyone you ever heard of, every human being who ever was, lived out their lives...
The world is so exquisite with so much love and moral depth, that there is no reason to deceive ourselves with pretty stories for which there's little good evidence. Far better it seems to me, in our vulnerability, is to look death in the eye and to be grateful every day for the brief but magnificent opportunity that life provides.
0 Comments / Subscribe To Comments
Published: Mar.29.2011 @ 9:32 am
Kseniya Simonova is the 2009 winner of the TV contest Ukraine's Got Talent. She is a performance artist in sand animation. The sand story Kseniya presented live on TV was an eight minute story of a young couple separated by the war. Kseniya was hoping to get some exposure as an artist, but it became much more. The audience was in tears. As soon as she finished her performance, applause erupted and she received a standing ovation. (via)
She really moved me so I thought I'd share this video for today:
0 Comments / Subscribe To Comments
Published: Mar.28.2011 @ 1:06 pm
I just recently watched Invictus and now I feel very, very inspired by the Nelson Mandela's story and struggle. But what touched me the most is the poem that was recited in the movie, because I know it so well. It's one of my favorite poems ever and has kept me strong for years:
Invictus by William Ernest Henley

Out of the night that covers me,
Black as the pit from pole to pole,
I thank whatever gods may be
For my unconquerable soul.

In the fell clutch of circumstance
I have not winced nor cried aloud.
Under the bludgeonings of chance
My head is bloody, but unbowed.

Beyond this place of wrath and tears
Looms but the Horror of the shade,
And yet the menace of the years
Finds and shall find me unafraid.

It matters not how strait the gate,
How charged with punishments the scroll,
I am the master of my fate:

I am the captain of my soul.
0 Comments / Subscribe To Comments
Published: Mar.26.2011 @ 11:37 am
Happy weekend! If you are in the mood to watch or play some sports, I highly recommend watching this very moving and inspiring clip of Al Pacino from the movie, Any Given Sunday. Sure, there's some rough language involved, but everything that he says is true. Sometimes we all just need a little push, and a fierce man who will tell us the truth to our faces. This speech is not only for sports but for all aspects of our lives as well!
Personally I watch this whenever I feel too down creatively. And then I get inspired back to creating again :)
0 Comments / Subscribe To Comments
Published: Mar.25.2011 @ 8:23 am
Those little things that you sometimes take for granted, but are actually really, really beautiful, and makes you wonder why you worry in the first place:
(via)
0 Comments / Subscribe To Comments
Published: Mar.24.2011 @ 10:07 pm
Here's an interesting project that deals with motivational quotes:
This is not strictly a Mind Map as each line should only contain one word, (see Rules) yet this selection of three word quotes utilises the principal of a Mind Map for simplicity to get everything on one page without using a list.


0 Comments / Subscribe To Comments
Published: Mar.24.2011 @ 6:21 pm | Last edited: Mar.28.2011 @ 4:49 pm
March 31 is just around the corner, and since I just finished my taxes, I figured that I might share what's been being in the revenue this last season in my Zazzle stores :) I was pretty surprised by some of the top invitations, but people seem to like them...so I guess I'm getting better at design after all...
10.
5.